Chambers Translations Services established in 1995 is one the oldest and the most well established International translation services company in Singapore, located @ Peace Centre # 03-09, Singapore 228149 , Chambers Translation Service provides accurate and reliable translation services for more than 80 languages including German Translation Services for all types of documents
Chambers Translations Services Singapore has a team of professional German Translators, our German translatorspossess German Translation qualifications and a good track record in translating German documents. We have German translators who specialise in translating Legal, Financial, Medical, Chemical and Technical documents
We can translate documents from German into English and from German into more than 80 other languages including English into German
Each need of our clients to acquire perfect translated documents is fulfilled by skilled German translators of Chambers translation services. Our translators have excellent accomplishments in providing high quality translations. For accurate translations, we ensure our valued clients with proficient proof reading by our experienced Senior German translators
Why Choose Chambers German Translation Services?
Don't trust your international language needs to less than the best
Thorough and accurate. 73% of our business comes from repeat customers.
Trusted by many prominent companies worldwide.
Trained Native-Speaking Professionals
Experienced professionals and subject specialists on every project.
Types German documents we handle
German Birth certificate translation
German Diploma certificate translation
German Wedding certificate translation
German Legal contract translation
German Divorce decree translation
German No Impediment to marry translation
German Police Criminal Record translation
German Death Certificate translation
German Driving license translation
German Bank statement translation
German Registration document translation
German Insurance certificate translation
German Passport / ID card translation
We translate all official documents
German language is part of "Indo-European Family of Languages" (IE), related fairly closely to other "Germanic" Languages, such as English, Dutch, the Scandinavian languages, and more remotely to other European languages, such as Latin, Greek, and the Slavic languages. German Language is spoken by more than 100 million people. The German language market is vastly expanding with a steady significance and this phenomenon has lead to translation of many business documents and other works to be translated from and to German.
Chambers is a global provider and is used by numerous companies worldwide for their translation services. Chambers professionals possess accurate German linguistics to deliver the best German translation service. Many of the clients recommended Chambers because the quality of the translation service is assured and accurate. To maintain quality in German translation services, they are worked on by the professional multilingual translators.
German translation services are utilized in diverse fields like medical, legal, technical and financial. To facilitate this, Chambers employs subject matter experts from multiple industries directed to specific types of content so that the translated material appears as though it has not lost its originality.
Origin of German Language
Standard German was developed and created over several hundred years into a language that can be understood in most areas in Germany. Although the standard German language did not originate from any dialect in particular, it was learnt and accepted firstly in Northern Germany and then eventually in southern Germany as a standard national language. Presently, the main Standard German national varieties are those in Germany, Austria and Switzerland.
German Language – Global Status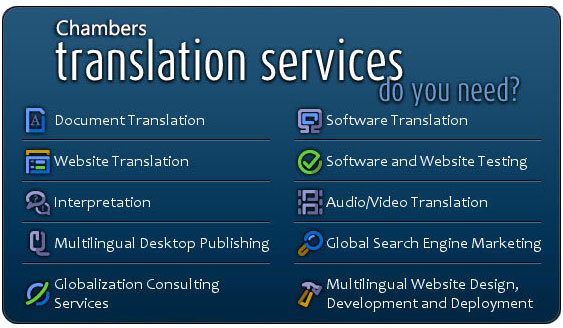 The status of national varieties is determined by the a) population size of users, their b) economic and c) political power, d) historical factors (the original heartland of the language), whether the language is the dominant language of the nation, and whether the language is native (as in English in England) or nativized (as English in Singapore).
Size of users of German Language
Standard German is one of the world's major languages and the most widely spoken first language in the European Union. Around the world, German is spoken by approximately 105 million native speakers and also by about 80 million non-native speakers. There are approximately 205 million German speakers in total.
National and Regional size of users
Standard German is an official national language in the following 5 countries:
1) Germany ( 81 million Standard German users-65.3 mil in Western States, 15.7 million in Eastern States)
2) Austria (7.5 million users)
3) Switzerland (4.2 million users, other official languages are French, Italian Rhaeto-Romansh)
4) Luxembourg (Total population of 372,000 use German, French and Ltzebuergesch in a complimentary way)
5) Lichtenstein (15,000 users)
German usage has also increased and has been recognised as an official regional language in the following countries:
1) Eastern parts of Belgium (130,000 German speakers)
2) South Tyrol in Italy (200,000)
3) Alsace-Lorraine in France (1.5 million)
4) Namibia, once a German Colony (30,000)
In addition to the above, German is spoken as an ethnic minority language in Hungary, Romania, parts of the Russian Federation, US, Canada, Australia, Brazil, Colombia and other immigrant countries.
In Europe, the numbers of German native speakers versus other main languages are as follows:
1) German (94 million native speakers)
2) French (62 million native speakers)
3) English (58 million native speakers)
Globally, the numbers of native speakers versus other main languages are as follows:
4) English (320 million native speakers)
5) Spanish (300 million native speakers)
6) German (105 million native speakers)
7) French (90 million native speakers)
Economy
Germany is the largest national economy in Europe, the fourth-largest by nominal Gross Domestic Product (GDP) of $3.673 trillion in 2008 in the world with GDP growth of 0.7% in Q3 2009 and GDP per Capita of $44,729 in 2008 and fifth by GDP or purchasing power parity (PPP) of $2.863 trillion (2008 est.). Germany is the world's top exporter with $1,498 trillion exported in 2008 (Euro zone countries are included) and generates a trade surplus of 165 billion. Exports account for more than one-third of national output.
As of September 2008[update], as measured by International Labour Organization standards the German unemployment rate was 6.2 percent (compared with 7.4 percent as measured by German standard).
Switzerland is one of the world's most stable economies. It has a long-term policy of monetary security and bank secrecy thus making Switzerland a safe haven for investors, creating an economy that is increasingly dependent on a steady tide of foreign investment. Switzerland has high labour specialisation and has achieved one of the highest per capita income of $41,800 in 2009, GDP of 306.321 billion in 2009. It has low unemployment rate of 3.9 percent in 2009 and a low budget deficit.
Austria is one of the 12 richest countries in the world in terms of GDP per Capita of $39,200 (2008 est.). It has a GDP of $432.4 billion (2008 est.), GDP growth of 1.6% (2008 est.) and purchasing power parity (PPP) of $325 billion (2008 est.) Austria, with its well-developed market economy and high standard of living, is closely tied to other EU economies, especially Germany's. Its economy features a large service sector, a sound industrial sector, and a small, but highly developed agricultural sector. It has low unemployment rate of 3.7% (2008 est.)and a low budget deficit of about 0.6% of GDP in 2008.
Politics
Germany is a member of the United Nations, NATO, G8, G20, OECD, and the WTO. It holds a key position in European affairs and maintains a multitude of close partnerships on a global level. Germany is recognised as a scientific and technological leader in several fields. Since reunification in 1990, Germany has further extended its commitments and central position in European and global affairs.
Switzerland has a long history of neutrality. It has not been in a state of war internationally since 1815 and was one of the last countries to join the United Nations. Switzerland is home to many international organisations, including the World Economic Forum, the Red Cross, the World Trade Organization and the second largest UN office. On the European level it was a founder of the European Free Trade Association and is part of the Schengen Agreement.
Austria maintains as an independent and diplomatic country despite close relations with Germany and is warmer with its relationship with the US, which is reinforced by Austria's role as supplier of small arms to the US Army. Austria is part of the Schengen Convention ending border controls between participating EU members. Its geopolitical position gives it considerable influence in Eastern Europe, and exports to the region trebled in the 1990s.
Historical Factors
The four states of the region Austria,Lichtenstein, Switzerland and Germany share close historical ties. They formed the core of the medieval German empire (952-1250). This broke up into a number of small states under the political supremacy of the Dukes of Habsburg, who by the 19th Century controlled the Austro-Hungarian empire. Religious wars (The Thirty Years War, 1618-48) left the power of the Roman Catholic Habsburgs greatly reduced among the German states in the West of the region, where Prussia's rise as a dominant military power created a unified German empire in 1870. Both Austria and Germany were embroiled in the rivalries of World War I (1914-18). With such strong German roots and balancing unity, Austria,Lichtenstein, Switzerland and Germany has made Standard German their original heartland of the language and dominant language of their respective nations.
Worth Knowing
German language has been used in almost all fields of knowledge.
Academic publications published by German language countries are generally done in Standard German especially for scientific publications and restricted for Europe.
Foreign authors need to know that most German language publishers are based in German cities such as Berlin, Frankfurt, Hamburg, Leipzig and Munich. This means that Austrian and Swiss authors need to submit their manuscripts to editors and publishers whose norms may be determined by German Standard German.
Good German Translation
German Translation and German Interpretation is critical if you would like to reach the rich German speaking world. Chambers Translation Company has a good team of highly qualified German translators who can help you and your company bridge the language barrier.
If you are trading with a German company or wish to expand your market reach there, you need good German language translators and interpreters to communicate effectively.
Chambers provides German translation services for a number of fields including legal German translation services, medical German translation services, technical German translation services, and financial German translation services. Chambers also provides German Interpreting services, includes Consecutive German Interpretation, Simultaneous German Interpretation and whispering German Interpretation.
For smooth transaction and communication with your German clients please contact Chambers german translation services. Chambers can offer good quality German translation services and interpretation services. Please contact us on +6563391886 or visit our website www.chamberstranslations.com.